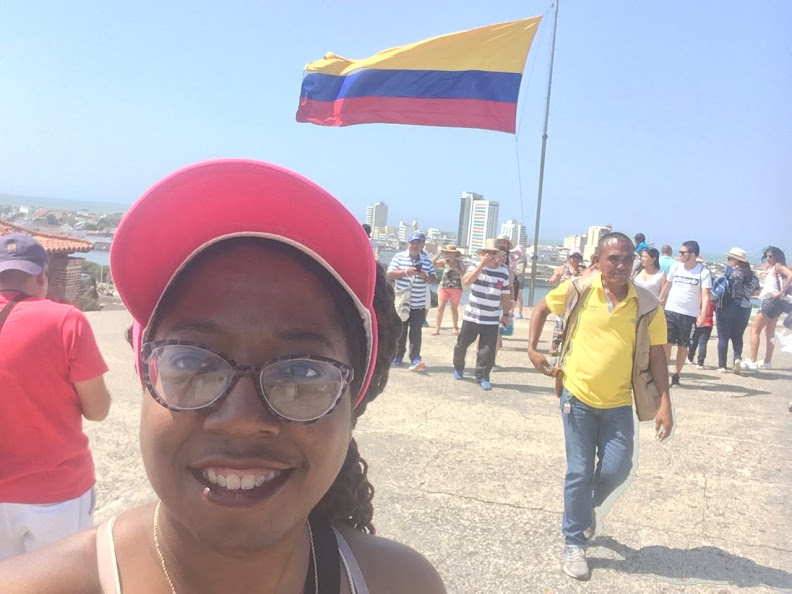 I recently traveled to South America for the first time, visiting the country of Colombia (no "u"). It was absolutely beautiful. I had an amazing time. Everyone told me to be careful. For the record, you should always be careful, no matter where you go. If you are thinking of traveling to South America, or to Colombia specifically, this post is for you. I'll share some tips and tricks, along with the usual fun-filled adventures. Here's my story:
My friend and I created a spreadsheet of trip prices based on the day that we searched, the website we used, roundtrip flights vs one way flights vs multiple destination flights, etc. to find the best prices. We eventually agreed on which flights to book and what hotels to stay. I was more surprised than anyone while I was printing out all of my travel documents a week before the trip to see that my hotel check-in and friends arrival were all on the 13th, while my flight was accidentally the 12th. I accidentally booked the wrong date on my flight!! Let's break this down one step further: I was going to (unplanned) travel to a new continent and new country 24 hours before anyone else and I had no friends or family that would be nearby in case of emergency. Hmmm. Never been in this situation before.
Tip #1: When planning for a trip with others, write everything down on a new sheet of paper once you have decided what to do!
I should also add that I was going to Colombia for a close friend's wedding. (you probably recognize her from a previous other crazy story [வணக்கம் Mr. E], but that tale is for another post). I will say that I was very grateful for the couple's consideration of solo travelers. I have traveled to several weddings, where, for whatever reason, there are people traveling alone. As a solo traveler it is very difficult to plan because you are automatically passing the ball to yourself. You have to pay double occupancy rates and the whole journey becomes much more awkward.
People travel solo for a variety of reasons:
They are single
They are dating, but not "there" yet and it's too soon to invite them to something 6 months out
They are in a relationship but they don't have the vacation time/money to send both
They are married and someone has to stay home and watch the kids
Their relationship wasn't "serious" enough for them to get a +1 (oh yes, that's a hot topic, but we digress)
They weren't sure who else was invited/didn't know anyone else going
Tip #2: When planning a wedding (especially a destination wedding) create an email or something so that people can see who else has been invited and have contact information for trying to coordinate rooms/rides/planning
So back to my dilemma – It's much easier to find a room for a night than move an airplane ticket (usually $200 change fee) so that's what I decided was going to happen. I tried to add a day to my existing hotel reservation but the price was higher and I'd be paying double occupancy (I was going to share the room with another guest). So I decided against that and thought it might be a great chance to get into the heart of the city. I did my homework on where to stay, looked at some tourist area attractions and picked a reasonably placed hotel smack dab in the center of the action. Not too shabby.
Of course I was nervous traveling by myself to Colombia a day before my friends would be there, but I prayed about it and gave my travel information to family and some friends and decided that it would be ok. I also read a lot online about what to do and what not to do.
Tip #3: When traveling to a foreign land you always want to understand the environment to which you are traveling. It's good to check on election dates and avoid dropping in the day after a controversial election. It's good to know the religious customs, holidays coming up, and if the people as a whole are for or against a particular issue so that you can avoid those topics.
The first city I would be traveling to was Cartagena, Colombia. The weather would be in the 70s and 80s (F). The hotel everyone was staying at was within the walled city. After some research, I found that it was best to stay within that area, so I did not venture outside by myself. I also read that taxi drivers (pretty much like anywhere #sorrynotsorry) try to rip the tourists off, so the airport had a system where you would get a taxi through the airport at a fixed price. In Cartagena, I knew the people were brown, like me, so I was very excited to blend in and have someone mistake me as a local. Until I spoke Spanish of course.
Tip #4: Always check your country's embassy website for the country that you are visiting. It will tell you if you need any special visas, vaccinations, or if there is turmoil and certain cities you may want to avoid. (Also, which cities that you can go to but you will be on your own if stuff goes down)
So travel day is here and I am determined to have an amazing time. The trip starts off with me being EARLY to the airport. Did you read that? Go back and read it again. It felt amazing. I wasn't running or flustered. And I've been watching these minimalism videos and used my packing cubes and I was feeling like a pro with my tiny [for me] bag. I flew to Atlanta, and from there to Cartagena. On the plane to Cartagena, these two ladies were sitting next to me. We began talking and I found out they had just met and didn't know each other at all. They were both traveling solo to Colombia.
The three of us ended up hitting it off. We were all staying inside the walled city and didn't have any real plans for the first day. We exchanged Instagram info and as we landed decided to split a cab to the walled city together. As soon as you get off the plane (like you walk down the stairs of the plane) you are scooted towards the main building where there are two lines: Colombians and non-Colombians. The line moved rather quickly. The immigration people ask you a couple questions regarding dates and why you are here, you get a stamp, and then you go get your bag in the airport.
Before leaving the airpot I always like to exchange some money into local currency. You can exchange cash for cash or take money out of the ATM. You will get a better rate outside the airport, but it's always good to have cash for the taxi and any tips, to avoid any issues.
Tip #5: Call your credit car companies to tell them you are leaving the country so that your charges are not suspected as fraud and your card deactivated
At the Rafael Núñez Cartagena airport (CTG) they have a nice system: you put in the machine where you are going and it calculates the tax fare. Simple. There's a guy that comes and helps you with the machine (of course he asks for a tip later) , but no haggling and no arguments. Or. So. I. Thought.
Of the three ladies, I was the only one that spoke spanish. My spanish is alright – enough to hold conversations, but I wouldn't call myself fluent (YET). So I did most of the talking. I explained that we were all going to the walled city but to 3 different locations. We discussed that the price on the paper was good "para toda" (for all). There was a lot of "si's" and nods as they tried to hurry us out of the line so that the other cabs could get their customers. By this time the girls and I had formed a Whatsapp chat, so we discussed money on there in case they guy knew more english than he let on. I sat in the front and me and the driver had a fun conversation in spanish. We talked about where he was from; where we were from; etc. I usually don't tell strangers in foreign lands where I'm from right off the bat, but seeing as he picked me up at the airport I think I was ok.
The driver ended up dropping me off last, which was different than what we discussed when we each told him our locations, but it was fine, he probably preferred to be in the car with someone who spoke spanish. It's all fun and games until it comes down to money. So we get to my hotel and I give him the money, based on the ticket that we printed, plus a tip. He says to me (in spanish) that I am to pay 3x the amount on the ticket. I say no, I had asked earlier at the airport if the price was "para toda" (for all) and he had said 'si.' Anyway, my new "friend" is now arguing with me in spanish and I'm alone; my bag will all my belongings is still in his trunk. Not able to articulate everything I want, due to limited vocabulary, I quickly converted the money in my head and decided to just pay him. In the end it was all of $5 per person ($15 total), so definitely not worth getting into any international issues on Day One.
Tip #6: Don't argue with drivers. If there's an issue, go into the hotel you are staying at and they will help dispute the fees in the local language.
One hour in this country and I had already been "got." I was a little upset, but decided to shake it off and consider it a lesson learned. I checked into my room and relaxed for a bit before meeting the other girls for a walking tour.
Read more in Part 2.