I hope you are enjoying this story!! If you are just tuning it, I am going through the details of my Pack Up & Go Surprise Trip.
This post is not sponsored.
****************** Make sure to read Part 1 and Part 2 before proceeding further ******************
We have put our suitcases in the car and are traveling on the highway to the airport. After dropping off the car, the shuttle driver asks us "What Airline?" We reply with our Terminal. He inquires again about the Airline, and we finally say we don't know, it's a surprise. After puzzled looks and questions, we then describe the website and everything to everyone on the shuttle (additional 2 passengers). They are intrigued and want to know more.
We step off the shuttle, breathe in the fresh air, and look at eachother. It's go time. There is one thing between us and our trip at the current moment: Opening the envelope!!
The camera is set up, ready to record our initial reactions. This is what excitement feels like, with a dash of nervousness. (But you secretly know it's all going to be ok.) So we open the envelope. The level of safeguards they provide to make sure you are intentionally opening it to see the location is highly appreciated. What you didn't realize is that I already told you the location. Go back and read this paragraph, looking only at the bolded letters. We jump up in excitement at FINALLY knowing where we are going. We are also thrilled to be one step closer to beginning our surprise vacation.
Inside the envelope is a folder with all the important information. The main page tells us where we are staying (we had selected that we would be ok with a hotel or Airbnb). The Check in and Check out times are listed, as well as the contact info, address, and confirmation number (they really pay attention to details). We had pre-paid dollars on an Uber Gift card for getting around. And we had dinner reservations for the 3 nights with a variety of cuisine incorporated into the restaurant choices (American, Mediterranean, Italian). We also had tickets (pre-purchased) for a tour and a museum. Alright, alright, if you didn't figure out the location, it's chicago. Purposefully in lower caps so you couldn't sneak peek ahead, lol.
Restaurants are only reserved, and not pre-paid, so you can cancel or move anything you like. There are also other recommended restaurants, if we wanted to change altogether. There are suggested activities, and the "Must Sees," which is a really good starting point. I am notoriously late to the airport, but #NewYearNewMe and I paid a bunch for this ticket, so we were super early and had plenty of time to read through the material. It's so hard to put into words the feelings we were going through, but they were all good feelings. Contentment.
We had an absolute amazing time. I wanted to share the journey of anticipation of going along with this crazy adventure. If you decide to take a surprise vacation (1) Message me immediately, I want to hear all about it, and (2) Know that your journey will be different. I'll share with you some of our activities at a quick glance. More pictures and video will be on the Gram (@joyfishbowl). To respect everyone's privacy I may or may not tag people involved.
Day 1
(using the term "day" but we arrived at night. Days of travel, not regarding daytime or nighttime)
The day of our flight we landed in chicago around 6:30pm. They suggested buying a 3-day metro pass, so we purchased one and took the train to our hotel. We were traveling light (carry-on and backpack [so proud of myself]), so it was easy to navigate. They even told us what station to get off. We got to our hotel, which was smack dab in the middle of everything by Millenium Park. We checked in and they gave us a room on the [nearly] top floor (36th of 37 floors). The view from our room was absolutely amazing!
*Pro-Tip – make sure you have a maps app on your phone and that your battery is charged
We dropped off our things and freshened up. Our first dinner reservation was for 9pm at The Gage. We dressed up for our first night in Chicago. We had 9pm dinner reservations at The Gage. Food was delicious was awesome and we were able to be seated outdoors. We had the best service (thanks Taylor), and the food was great. They had things that were under $20 and steaks that were $70, so a variety of dishes. While eating we saw people passing by with this delicious looking flower ice cream and we made a mental note to check out that place before we left. We headed back to the hotel after dinner to make sure we were well rested for our first full day in Chicago Friday.
*Pro-Tip – It's amazing avoiding the crowds on the weekdays. We saw a stark difference between Friday and Saturday in the touristy areas.
Day 2
It was gorgeous outside!! We had been so nervous with the rain forecast, but the day ended up being beautiful. We checked the weather and it was supposed to be nice for most of our trip and rainy the last day, so we discussed doing all the outside things while we had nice weather.
*Pro Tip – You definitely need your layers in Chicago because one minute it's 50 degrees and the next it's 70. Denim jackets are perfect!
We explored the area. Loved seeing all the beautiful murals. Our waiter from the previous night told us to check out Lou Malnati's for pizza, so we did just that. Once you order it takes about 30 minutes to bake, so we enjoyed the ambiance, and each enjoyed our own personal deep dish pizza.
Tulips everywhere – we learned that Chicago imports about 10,000 tulips from the Netherlands every year. Crazy. We went to the Willis Tower (forever known as the Sears Tower) – no wait. They had a lot of fun facts about Chicago and lots of Photo Ops. Had to get a picture with the Obamas and block a shot from Michael Jordan. We pretended to sing on stage and had amazing pictures on The Ledge.
Next we went on a boat ride – Wendella Architecture Boat Tour (90 mins). It was nice to sit and view the city from the river. I forgot to mention – when we got near our hotel we noticed a ton of people with name badges. At first we just assumed it was a private tour group, but then we saw more and more. There were a bunch of conferences going on this same weekend. We met a lot of the Fulbright scholars and educations from the American Educational Research Association. The tour was great and gave us A LOT of background on the city (called The second city after the fire when the 'first city' burned down). We also got to understand some of the different styles of architecture. Chicago is also home to the tallest building in the world designed by a female Architect, Jeanne Gang – Aqua Tower (wavy blue building).
Day 2 Dinner was at a Meditterranean restaurant called Ema. Cute restaurant. Food was good. Great service by Mike. On our way home from the tour we just *happened* to see the flower ice cream place and stopped by for a taste. It's called Amorino. Absolutely delicious!! We decided to check out the night scene, since we were well rested, and decided to go to one of the cool rooftop bars. We visited The Signature at the 95th floor. Great views. Although it's a rooftop bar, it's an enclosed rooftop, so not as cool as what we imagined, but neat speakeasy vibe.
Day 3
Another beautiful day. We had brunch at Wildberry, around the corned from our hotel. It was a bit of a wait, but the food was good. We walked to The Bean (so it's actually called Cloud Gate, but everyone knows it as The Bean). Then we rented bikes and biked along the river. They have really good bike lanes and it's very easy to get around. We stopped by the beach – Chicago has a beach! For a quick photo. We biked to the Ice Cream Museum and found a place to return the bikes. Tickets for the Ice Cream museum were pre-purchased for us, with open timing any time that day.
*Pro-Tip – make sure to grab your printed tickets for the day and throw them in your purse the night before or in the morning (or save QR codes).
The Ice Cream Museum was like an adult kid store. There are 5 rooms where they give you different ice creams or sorbets (included in the ticket). There's miniature golf, cute props for photos, a little carnival set up, and just happiness all around. You can also go back and get more ice cream. It was a lot, but it was fun and we tasted everything!
We headed back to the hotel to rest (we had walked at least 20 miles since we got here Thursday – no lie) and change into our cute dining outfits. Our final dinner reservation was for Piccolo Sogno, an Italian place on the other side of town. Super cute restaurant. I definitely recommend dining outside. The ambiance was energetic, and you felt like you were in a city in Italy. Service was amazing (thanks Mauricio). Food was delicious. Definitely get some dessert – we had a hazelnut cake with ice cream. Left there stuffed!!
We wanted to get some live music and had heard good things about House of Blues. It was also on the recommended list from pack up and go. The restaurant has open seating and a $10 cover. John Primer and The Real Deal Blues Band playing. They were awesome. We ended up meeting some of the band members after the show (Sam Ocean, keyboardist; Steve Bell, harmonica; and Dave Forte, bassist). Mr. Primer and Mr. Bell are getting inducted into the Hall of Fame in Tennessee in a couple of weeks. The Band did an awesome job and it was great listening to live music. This was a great way to end our night.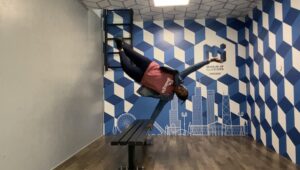 Day 4 was cold and rainy. There was a little sadness because our vacation was ending, but we knew we had packed as much fun in as we could, and for that, I was delighted!. We had breakfast at Kanela's, then went to the Museum of Illusions. It was really neat. So many optical illusions. And yes, that is me doing a one-armed handstand, lol.
Our final stop was to have a donut at Stan's donuts before heading to the airport. I watched a beautiful movie on the plane, and smiled all the way home. Beautiful trip, great company, blessed journey. Grateful to share with you.
Finally, Part 4, contains my reflections and final impressions on Pack Up & Go.
My Pack Up & Go Referral link, here.
More pictures and video are on my instagram page: @joyfishbowl.