Welcome, welcome, welcome!!! I hope you are enjoying this story!! If you are just tuning it, I am going through the details of my Pack Up & Go Surprise Trip.
This post is not sponsored.
**********************   Please read Part 1 before proceeding further   **********************
We booked our trip about 2 months before travel. So it was awfully quiet after we got the confirmation emails. They did let us know that we would hear from them a week before the trip with details on what to pack and what the weather would be in this surprise destination.
Our brains are exploding at this point. I am not a very spontaneous person, and I just shipped out all this money. Did this really happen? Is this a crazy dream? There is definitely a curve of excitement and freaking out, as you get closer and closer to the trip.
Exactly a week before our trip we get an email from Pack Up & Go!!! I stopped everything to read word for word what this email was telling me.  (For privacy reason, names have been removed). Firstly, it told us what the weather would be in our surprise location. Even though you don't want to know, you kinda want to know. Our brains are thinking of different parts of the country. I forced myself not to look on any weather websites to figure out where it could be, but this weather rocks!! I was so excited.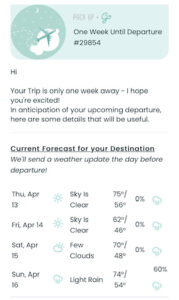 Now, packing was a little tough, I will admit. From a high level, you know what you need. We had 3 nights and 3 days, and we were going to be pretty active walking around, so definitely had a nice outfit for dinner and night life, and picture-esque outfits for the daytime. I also brought one gym outfit in case we went hiking or rock climbing. Without knowing the exact activities, there was a small concern that I wouldn't have the right thing, so I probably over packed a little, but I only brought a carry-on and a backpack, and that made it very easy to maneuver around on the plane and train. The hints about the jacket and being near a lake made us think we were on the west coast or somewhere with a lake/river.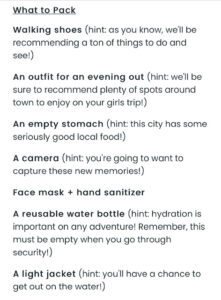 The email also told us what time to be at the airport and which terminal. We did not know the flight numbers or the airline, but this was enough to make travel plans for our car and figure out what time to leave our homes. 
"Wherever it is and whatever we do, I know that we will have an amazing time." was my mantra. I prayed that everything worked out and I truly wanted to experience the full surprise.  I had good company and we are extremely blessed to be able to try something like this. So, I turned all anxiety into excitement.
A lot of people were concerned about safety, but as soon as we find out where we are going, we can provide our information to our family and friends.  I think of it as safe as using a travel agent.
So we get a curve ball 2 days or so before the trip, with updated weather: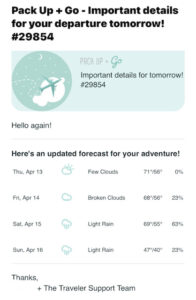 Ugh, it's going to be cold and rainy. We ditched our sandals, grabbed umbrellas and ponchos, and threw in extra layers. We are still excited, but the rain was going to be a little damper.
The day of the trip, I have the mystery envelope (unopened) in my possession. We travel to the airport, and finally find out where we are going.
Read Part 3, where I reveal the location!!!
Pack Up & Go Referral link
Pictures & video on Instagram: @joyfishbowl