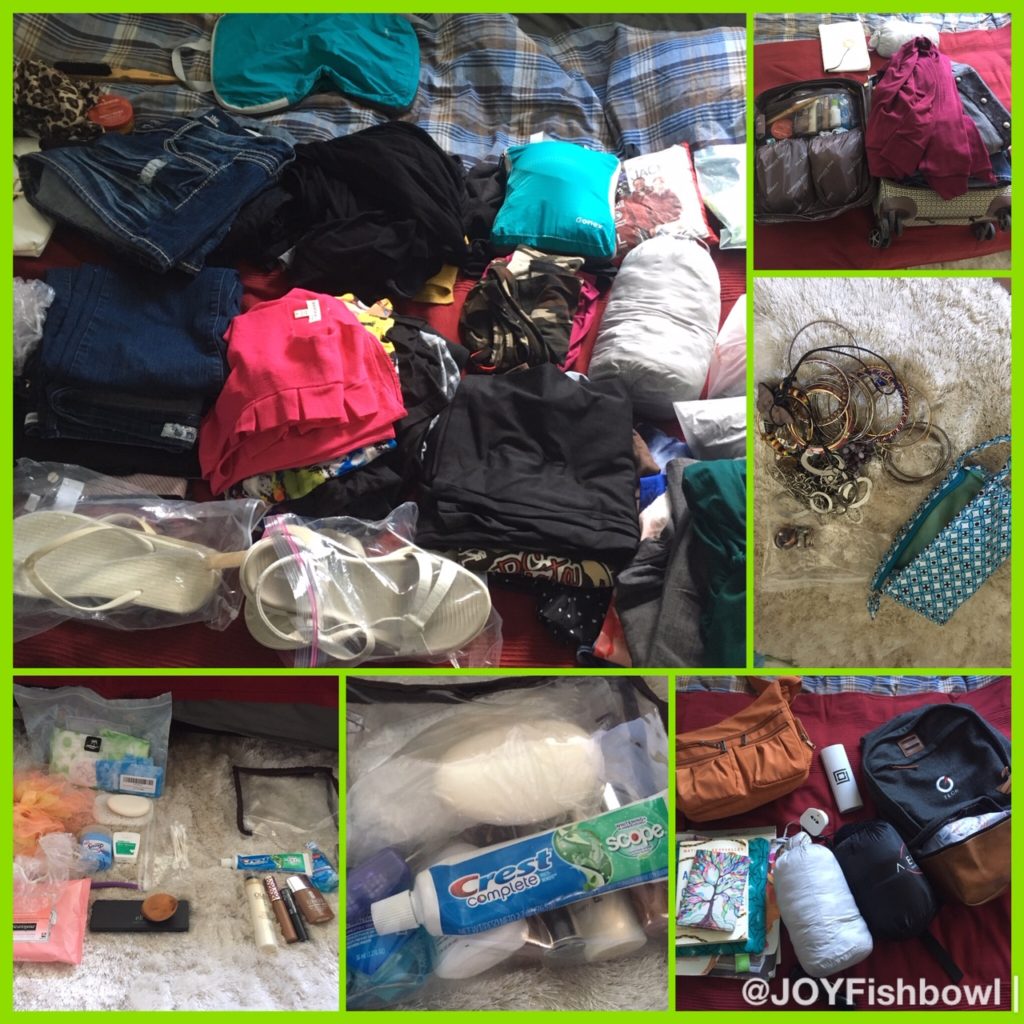 I did it. 10 days. Halfway across the world. In the tiniest carryon suitcase imaginable. Can we pause and clap for a second though?
<pause>
Ok thanks! I'm proud of myself too!
If you remember from my trip to Portugal, I was miserable carrying my 50 lb checked in bag, a carry on, and a backpack along the cobblestone streets of Lisbon as I tried to find my accommodations, then the 3 story hike to the apartment with no one to help me.  I had had it. Never again, I promised myself.
So the opportunity presented itself on my trip to Germany. I watched a ton of videos on the best way to fold clothes, packing cubes vs rolling, and what is really necessary. It's all very fascinating, but all very custom to the type of lifestyle that you live. What I didn't find were a lot of people that lived like me:
I didn't want to have pictures with the same outfit in it
I don't wear dresses all the time
I like dressing up and going to a nice dinner on vacation
Everything is not wrinkle free
I get cold, so those thin sweaters don't always cut it
I want to look fab on vacation
So first thing's first. You need a suitcase. This will largely depend on where you are going and which airline you are flying, but for the sake of being safe, it's best to go with the smallest requirement. Not all carry-on suitcases are created alike. I was flying to London via British Airways (international trip) and then domestic once in London to Munich, Germany via Lufthansa. While British Airways allows for 22″ x 18″ x 10″ (56cm x 45cm x 25cm) and 51lb (23kg) Lufthansa only allowed 21″ x 15″ x 9″ (55 x 40 x 23 cm) – MUCH SMALLER. I was able to check in my carryon for free from London to Munich because you are allowed 1 bag by Lufthansa, but just in case I wanted to be able to carry it through so I followed those dimensions. Alright, now when you look at suitcases online and start shopping you will notice that most of them are larger than the Lufthansa dimensions. I was able to find a nice London Fog suitcase at Marshalls (Always great prices [unsponsored post]). Suitcase: Devonshire Plaid 20″ Expandable Upright Spinner (14″L x 9.5″W x 20″H) with a 2″ expansion. (The expansion is a trap; don't use it!!!)
NOTE: There are two types of suitcases and the type you need is really a preference. There's the one that opens into two separate halves, with a zipper down the middle. Then there is one that is deep with a flap. I really can't stand the two halves, so I had to have the deep suitcase with the flap. I also recommend having spinner wheels. It is so much easier whizzing down the airport when the wheels can go any direction.
Ok, so the next thing to think about is where you are going. Depending on the weather and temperature, this will affect how you are going to pack. For my trip, I had to consider London and Munich Temperatures.  London weather is typically always rainy or cloudy . For the days of my trip the temperatures (Fahrenheit) were  in the low 70s during day and High 50s at night. For Munich: low 70s during the day and low 50s at night.  Layers are always key here.
The final thing to think about are the one-offs: special occasion dinners (where you might want to dress up),  outings (i.e. hiking, where you might want to bring hiking boots); special accommodations (couch surfing somewhere that doesn't provide amenities like towels and sheets).
Finally, it's time to pack. (ok, before you pack, do your laundry so that you can really see all of your options.)
My method was to go through each day and think of what I would need. I threw it all on my bed and weeded out things as I could reuse them. For travel days you can really wear the same thing, since you'll just be on a plane or a train for hours. In the event that the overhead is full, you want to leave room in your personal bag (in my case a bookbag) to take something out of your carryon and to keep it on you.
So here's what I packed, shown in the picture above. This does include the clothes I wore on the plane. 
WHAT I PACKED:
Toiletries (wet) – all went into a clear bag
Toothpaste
Face moisturizer
Concealer
Liquid Foundation
Mascara
Mouthwash
Perfume
Face wash
Toiletries (dry)
Loofah
Chapstick
Shower Cap
Face Wipes
Deodorant
Floss
Toothbrush (with travel cap)
Makeup sponge
Eyebrow pencil
Eyeliner
Eyeshadow compact
Bar of soap (and the soap saver)
Feminine Products
hair gel
hair brush
Remaining items
Jewelry pouch – rings in a snack bag, bracelets and necklaces
Shoes – sneakers, flip flops, sandals, flat shoes
11 tops – including 3 t-shirts (1 doubled as a pajama top) and 3 dressier blouses
2 pairs of shorts
2 pairs of jeans
1 denim capri
1 yoga pants (doubled as pajama bottom)
1 pair of slacks
2 tank top undershirts
2 dresses (1 dressier; 1 super casual)
1 blazer
2 cardigans (black and a pop color)
Poncho jacket (comes in a foldable bag; not the clear plastic type)
12 pairs of Underwear & 3 bras (including 1 strapless)
5 pairs of socks
2 purses (1 cross body travel purse and 1 clutch for going out)
Night bonnet
1 pullover sweater
1 zip up hoodie
1 denim jacket
extra plastic bags (for dirty laundry or shoes)
sunglasses ( I ended up forgetting mine, and it was super annoying)
Satin Pillowcase
Personal Item (bookbag) 
2 magazines, Kindle, 1 book
Passport in case
Compressible jacket
Electronics pouch
Travel pillow
Cross body purse (keep it in your personal bag so you only have the one bag, then you can take it out once you pass security)
Plastic reuseable water bottle (empty it out before security) – I don't recommend bringing glass
For my electronics bag (you can use a packing cube):
Charging cords for phone, kindle, fitbit,
Converter plugs for London and the EU (London does NOT use the EU plug!)
Earphones/earbuds
Charged backup battery packs (something I wish I had with me)
MAKING IT ALL FIT:
First, take out what you plan to wear on the plane. For the trip there I like to have a lot of pockets when I arrive somewhere so I opted for a pair of comfy jeans, t-shirt, hoodie, and denim jacket. I wore my sneakers as well, to keep a large item out of the suitcase. On the way back I wore the same thing but swapped the jeans for yoga pants because I was all about curling up and getting some rest. 
I had purchased some compressible packing cubes (Gonex) and used one for socks, underwear, and bras. In the other packing cube I rolled up all of my tops. I originally had everything in packing cubes (I had some non-compressible ones as well) but it was easier to fill in some of the gaps in the suitcase by keeping things loose. Shorts rolled up nicely to fit along the sides. Cardigans  are great for filling in the gaps. I did have the jeans, capris, and pants in a compressible cube.
Liquids had to be easily accessible so that I could take it out when I went through security. I also don't like my shoes to touch my clothing, so I always have shoes in separate plastic bags.
THE VERDICT:
I was well pleased with having one carry-on bag. It was light (about 23 lbs) and easy to carry. When I arrived to my destinations I had a limited number of choices so it made deciding what to wear each day, that much easier. The most stressful part was the packing. Once you arrive you start to care less and less about that shirt you wished you had. Altogether I think I wore everything but 2 tops, so that worked out pretty well. If I had to do this exact trip again I would have taken 4 less tops, gotten rid of the pullover sweater, and only brought one pair of jeans. Oh and also never bring new shoes on a trip; my dress flats (shoes) weren't all that comfy, so I would have worn them in prior to the trip or picked a pair that I already had.
Great experience. I hope you try it. If you have additional tips or suggestions, please comment below.